Carpet & Upholstery Cleaning with Chem-Dry of Manhattan
Chem-Dry of Manhattan proudly serves our Manhattan community every day by helping our customers maintain a clean, healthy, happy home. Our proprietary process combined with our non-toxic, green-certified solution means that we'll leave your home not only cleaner but safer and healthier, too. This process uses 80% less water than the traditional steam cleaning. With our non-toxic solution, we promise you a cleaner and healthier option to clean your carpet.
A Healthier, Greener Carpet Cleaning
Most carpet cleaners use the steam cleaning method to deodorize your carpet. This method often uses harmful soaps and excessive amounts of water, leaving a sticky dirt-attracting residue. At Chem-Dry of Manhattan we use a patented carpet cleaning solution called The Natural®. This solution is green-certified and non-toxic, leaving you with not only a cleaner home, but a healthier one too!
Our professionally-trained technicians here at Chem-Dry of Manhattan are dedicated to providing an outstanding cleaning experience and will treat your home and family with the respect you deserve.
Area Rug and Mattress Cleaning
One of everyone's favorite services that we offer in Manhattan is our area rug cleaning. Our goal is not just to clean the rugs, but to bring back their original patterns and colors. Your oriental and area rugs are more than just a part of your home, so we always make sure to put extra care into treating them with specialized tools and equipment designed for area rugs.
Another huge reason to call us is because of our mattress cleaning services. Who knows how long its been since you've deep cleaned that mattress. Give us a call today and we can get your mattress back into tip-top shape!
Take 10% off your service when you call us directly! Call today!
Learn More
A Healthier Home
Chem-Dry's mission is helping people live healthy lives starting with clean carpets and a healthy home. Our proprietary Hot Carbonating Extraction cleaning process penetrates deep into the fibers, removing an average of 98% of common household allergens from carpets and upholstery.
Our green-certified solution, The Natural®, contains no dirt attracting soaps or detergents so it's safe and non-toxic for your family & pets. And, Chem-Dry uses 80% less water than typical steam cleaning so carpets dry in hours instead of days, making it the safer and more convenient carpet cleaning choice. All of this means Chem-Dry cleans for your health like no one else.
Learn More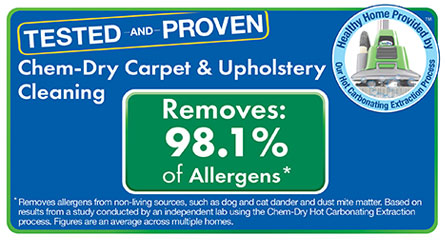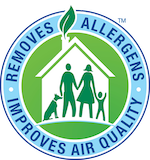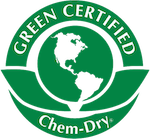 Get a Free Quote Today!
Click below to access our form and provide us with your contact information and any other information about your needs. We'll contact you soon to schedule an in-home appointment so you'll be on your way to a cleaner, healthier home!